After reading and becoming obsessed with Twilight and New Moon I soon discovered the fan site the Lexicon. I met a girl through the Lexicon named Ellabelle (Christy) who I became good friends with. We both found out we were going to the BYU symposium! I had heard that usually when Stephenie speaks at a public engagement there is a fan gathering the night before. I also heard about these things called I Love Edward parties. I kept searching to find out if there was going to be one in Provo. Well it didn't look like there was going to be one. Since I had always wanted to go but there wasn't one planned I asked Christy if she wanted to help throw one. She said yes!! She even had a contact in the symposium and was able to contact Stephenie and let her know about the party. For the record we were planning on having the party with or without her. Mainly because I don't think either Christy or I could fathom the idea of Stephenie attending something we had planned. When Christy and I had the idea about throwing this party we had no idea what it would turn out to be. We had originally planned to have a small, simple party at a local restaurant. Then we thought it would be fun to have more people so we wanted to have it at the Brick Oven that held 85 people but found that they didn't let you use their banquet rooms on the weekend. We both called and even spoke to their regional manager. They refused to budge. What other night is a party usually on? So Christy had the smarts to ask the local library, which was hosting the symposium the next day, if we could use one of their rooms. He said we could for free, on one condition: He wanted his family and himself to be able to come! We said, 'Sure!' I doubt he would have said yes if not for Christy's connections. So again, Christy, you rock!!!
So now that we had a nice place and we found Stephenie could come we felt a little more pressure to have it be a great party. We also realized we had limited space. But 48 people was plenty right? LOL. Wrong! And at this time Heather asked if we wanted help with the headcount. We said yes and we are so glad we did! She helped SO MUCH! We were able to add one more table and ended up fitting 58. So our 58 spots sold out in less than two days. We were shocked! Then we decided to start a waiting list and soon it had thirty people. So we had to close it off. One fan's mom worked for a local paper and wanted to interview Stephenie and also write a little bit about our party in the Deseret News (to come out after the party). Turns out they ran an article about the symposium and about the party (before the party) and that started a new batch of phone calls of people hoping to get into the party. We also had some fans who planned on just showing up and hoping someone didn't come so they could get in. Christy's library contact was really concerned about party crashers! The Beatles have nothing on Stephenie!
So Joe and I left from CA at 4 in the morning on Thursday. I was so anxious to go I didn't fill up the gas tank! But we checked our 'miles to empty' and found we could make it several miles past Vegas, so I flew past Baker. It was at this time I looked up and realized we had 30 miles to empty.(Baker to Vegas is more than 90 miles with almost nothing between) I had no idea how far we were from anything. Then the low gas light went on. My family was sleeping and I was panicking! But I didn't want to wake them up so I switched to the slow lane and started to coast. I was behind a semi, praying as I drafted off him. Then I saw we were down to 3 miles (gulp). Still praying, I realized it now said 11 miles. I had all of these scenarios running through my head about how I could go pick up the gas while the family slept. LOL. Anyway it was a miracle that we made it to the exit at the state line. At this point it still said 11 miles until empty. As I pulled into the gas station it said 0 miles! We rolled in on fumes! Turns out we had it in on kilometers instead of miles!
Anyway so the day of the party arrived! Yeah! My sister-in-law LeAnne decided to help Christy and I set up. She was a HUGE help. We got as much done as we could. We had white chair covers and green tablecloths to help the room look pretty.
Christy made these pretty centerpieces with lavender( because Bella smells like lavender) and a candle in a vase and then marbles around it. We also had freesia on the buffet table. We put a program, a mug (I am so proud of the mugs…they say, "Well, it's no irritable grizzly…") and dove chocolate at every table.
Then we came back from other errands about four and LeAnne is there setting up again. She had purchased a really cool punch bowl just for the party.
We were still running a little late but were done with everything at six. So the party started and Christy and I were first on the program.
It was a weird feeling that after all those month of planning it was finally happening. We were too busy to memorize our lines (We did 'Race' from New Moon.) and before we started we apologized to Stephenie for what we were about to do and let the audience know that they were in for a huge treat. Christy and I had both come out of retirement from our Jr. High School plays to perform for them. I thought Christy did an AWESOME job as Alice but my Bella was pretty bad. Although my begging to her to bite me did get a laugh! After it was over I ran into the comforting arms of my husband who noted I was shaking like a leaf and my face was so flushed I felt like I had a fever! I know I talk a lot but I'm really very shy!
Here are the programs my friend Alma designed! She also designed the shirts!The picture on the back of the program was a picture I took through the airplane window on my flight to Japan while reading Twilight for the first time.
Anyway, with that over we got to eat. Everyone brought great food to share. We provided water bottles, Bella's blood (cranberry juice and 7-up), pizza, pasta salad and cheesecake. People brought 'bite sized' chocolate covered cherries, divine bon-bons, veggies trays, seven layer dip…there was too much good food to name it all!
We had a game when people signed in to get people talking. We had a 'Forks' related name on everyone's back and then you asked the people around you yes and no questions and tried to guess what it was. Sadly though there was a miscommunication and some people didn't understand why they had the name on their back. LOL. At the end of dinner Jen (who was introduced by her teacher Kristie ) read a letter she had written to Edward. Kristie had started a contest in her school, (that went to a few other schools), to see who could write the best letter to Edward about why they wanted to meet him. It was a good letter.
Then we went to the next room where we played twilight tic-tac-toe. My friend Melonie made all the game pieces and it was really cute!
After the first round we found it was too easy so we switched the rules around a little bit. Although Stephenie correcting the pronunciation of a characters name proved to make some people upset. I felt like the third round was the best! I have to admit the level of competition surprised me.
We told everyone that we thought they were all winners and passed out our goodie-bags. My sister-in-law Sandra sewed us these beautiful black velvet like bags that were lined with pink satin.
Inside we had personalized conversation hearts and M&M's (They said things like Marry me Edward, Edward kiss me, Edward bite me, Edward luvs Bella, etc.) and a little vial of freesia perfume and forks engraved with the words 'I'd rather be in Forks', that were dipped in chocolate.
(Usually for hot cocoa you use spoons but thought forks would be better)We also included the wonderful Utah-made Stephens hot cocoa. And each bag had Hershey kisses that Joe had replaced the tags with ones that read, "Edward's kisses."
And they all had a little wallet sized picture that matched our shirts and the back had all the party info on it. The conversation heart made a mistake printing one of the conversation hearts. It was supposed to say 'I ♥ Edward' but instead it said 'I ? Edward'. We did tell everyone we weren't sure what anyone might want to do with Edward and we honestly didn't want to know. Anyway I was really proud of the goodie bags!
After that we had a really cool scene acted out by Neal and Jody Lynn . They had Twilight on tape and did all of the dialogue in sign language. They did the scene 'Theory' with Edward and Bella. Stephenie actually stood on her chair so she could get a better view!
Then I stood up with a really pretty envelope and welcomed everyone to the Edward awards. We had conducted an online poll asking people to vote for their favorite book. The choices were Twilight by Stephenie Meyer, New Moon by Stephenie Meyer, Midnight Sun (one chapter was alone to enough to make it your favorite) by Stephenie Meyer or Eclipse (the title tells you it is going to be the best in the whole series). I told the audience something similar to this,"Thank you all for coming to the first ever Edward awards. We're glad the whole academy is in attendance. This is a really tough competition this year and those who don't win shouldn't get their feelings hurt." When I started reading the nominees and everyone realized they were all Stephenie they giggled. And then dramatically I opened the fancy envelope my friend Melonie had made and it said, "The Edward for Best Writing for a YA novel is New Moon by Stephenie Meyer." I then turned the piece of paper around so everyone could see. She came up to accept her Edward. The Edward award was an Oscar like statue that was white and holding a red apple.
I had the idea and Joe made it happen. Sadly, for every three he made he had one break.
They were pretty fragile. Stephenie broke her first one but we made extras just for that purpose so we gave her a new one. Stephenie asked if she had to make a speech. We told her she could skip the speech if she was willing to read Midnight Sun. It was exciting to get to listen to her read from Midnight Sun. Then she answered questions during a Q&A session. After that we had Stacy read a poem and Robin off her artwork and then their friend read another poem, this one for Jacob. After that we gave out the rest of the Edwards to people who acted out a scene and people who had helped. We also had prizes for people with the most Lexicon posts, who had traveled the furthest, and the youngest and oldest fan at the party. After that Stephenie was kind enough to do a book signing and take pictures! It was an awesome night! Stephenie said she really enjoyed the party!
My friend Christina helped me think of a really great idea for a present for Stephenie. It was a Forks Newspaper with articles about the Twilight characters, many of who had entered and won Stephenie's favorite reality shows. Joe did a lot of work to make the pictures for the paper. Christina helped me with the Survivor game aspect. Christy wrote a great article about Carlisle too. I thought I was really creative until I saw Meghan's Barbie. LOL
So I finally got to meet Stephenie and she was really cool! I think she liked me. She never came out and said, "Michele, I like you." But I think it was implied! LOL. And it was so great to finally meet all of these people I had been emailing. I met the coolest group of people who I love! Oh and 918 for life! :) Here are some other pictures I LOVED and wanted to share!:)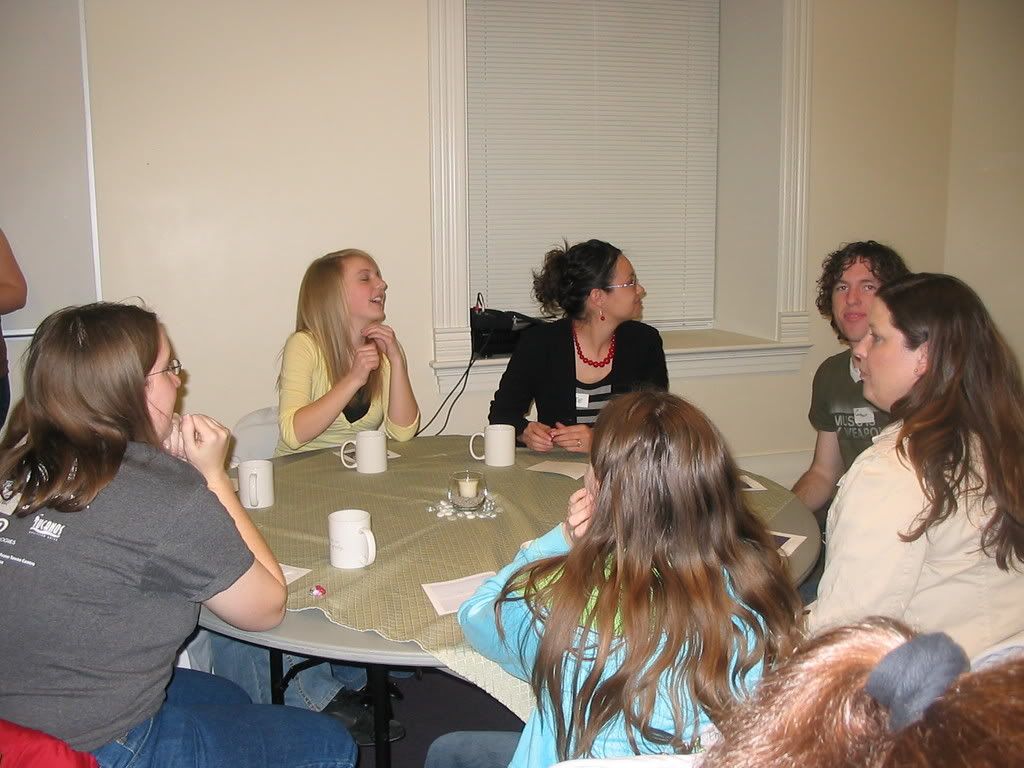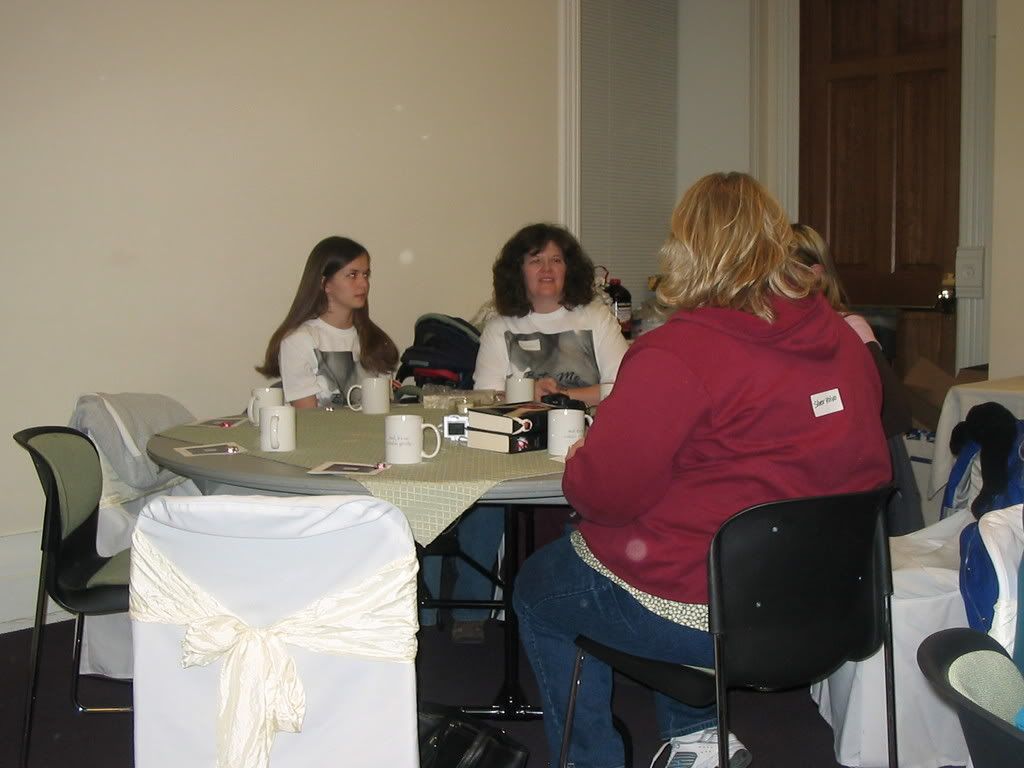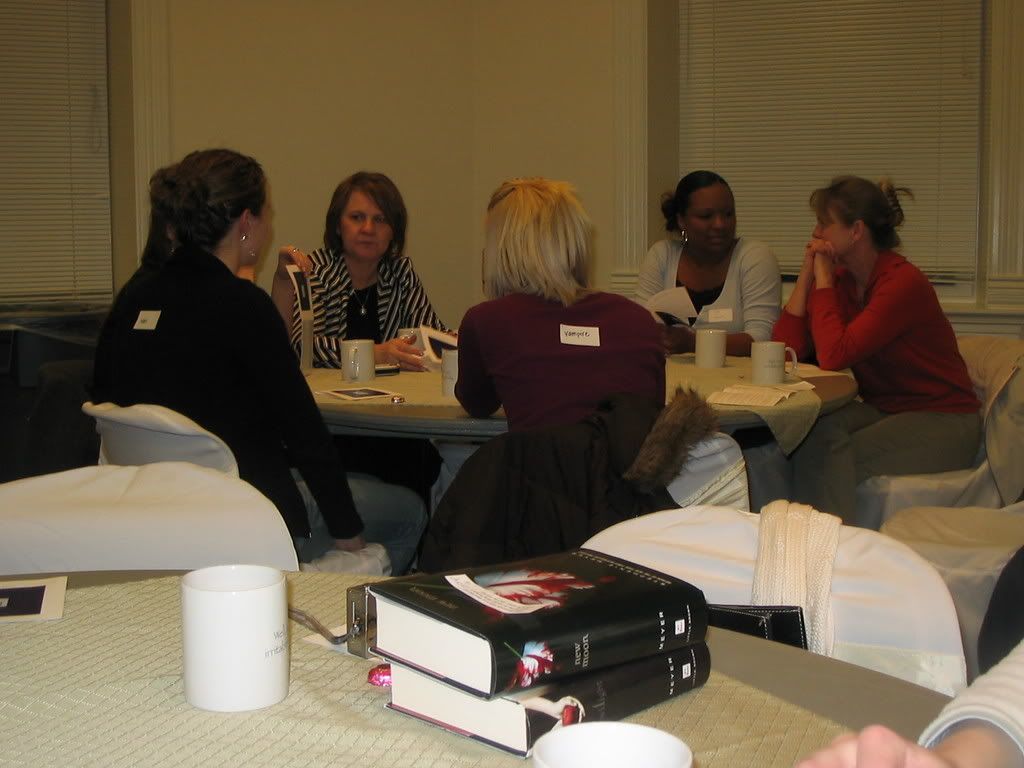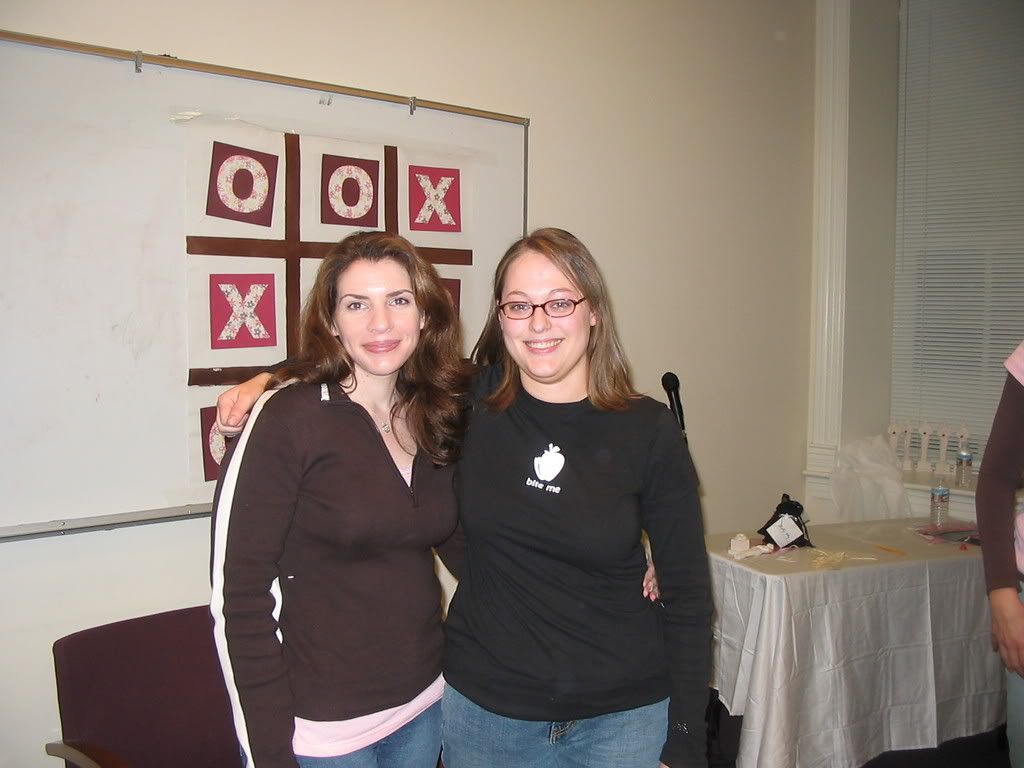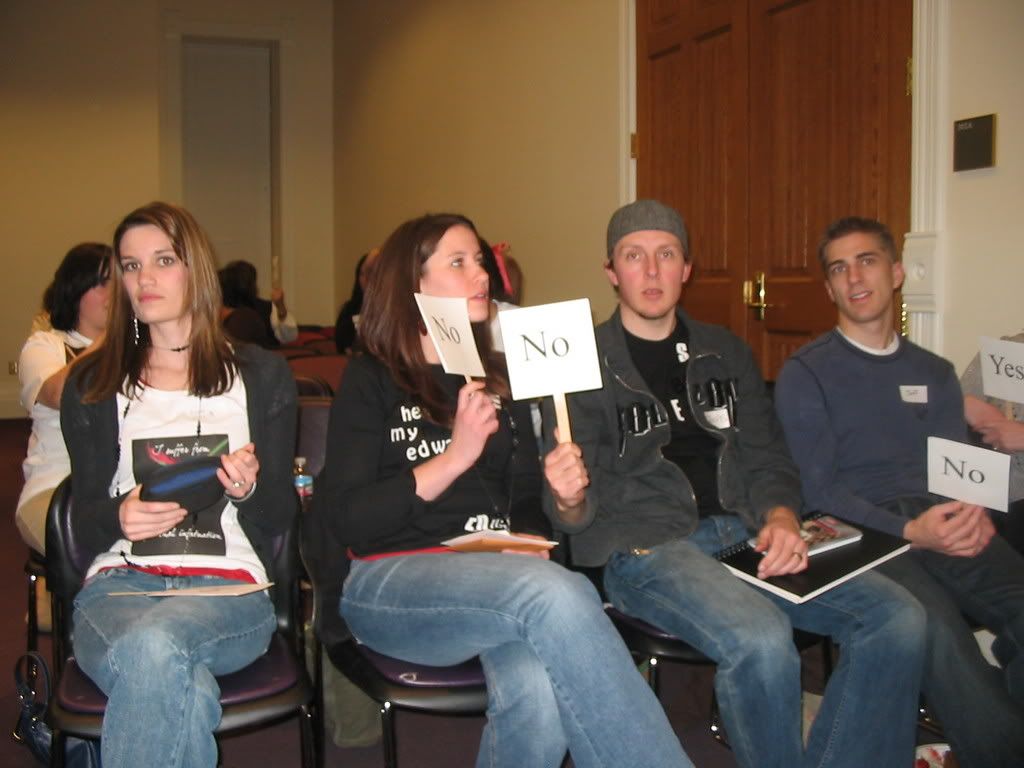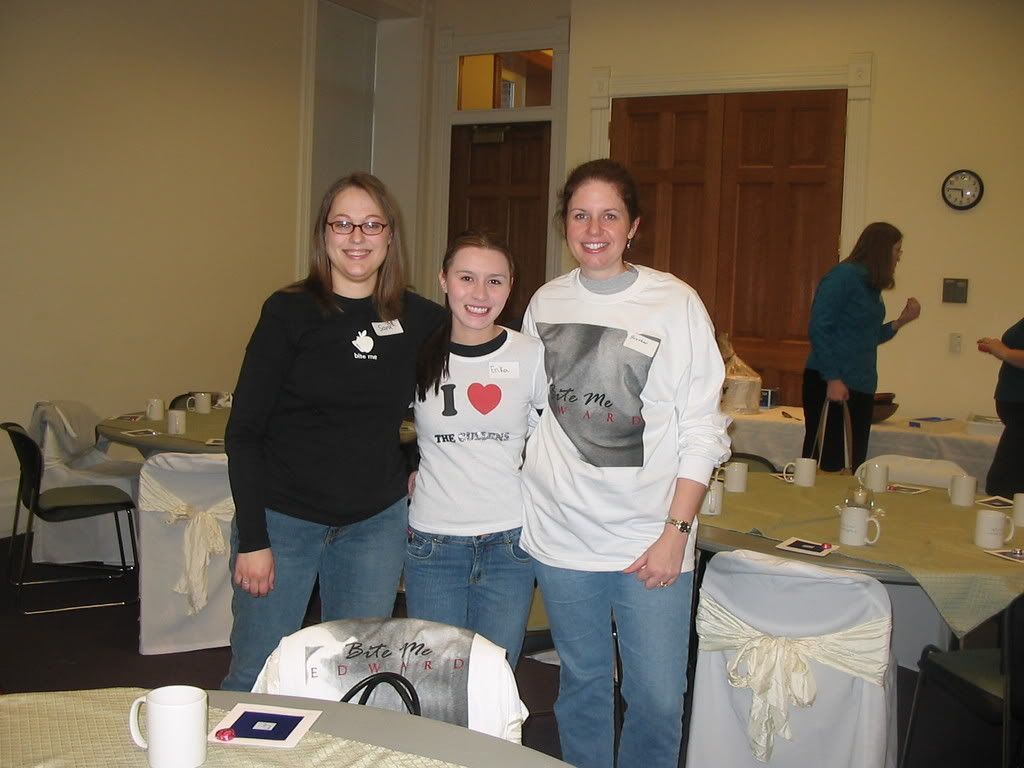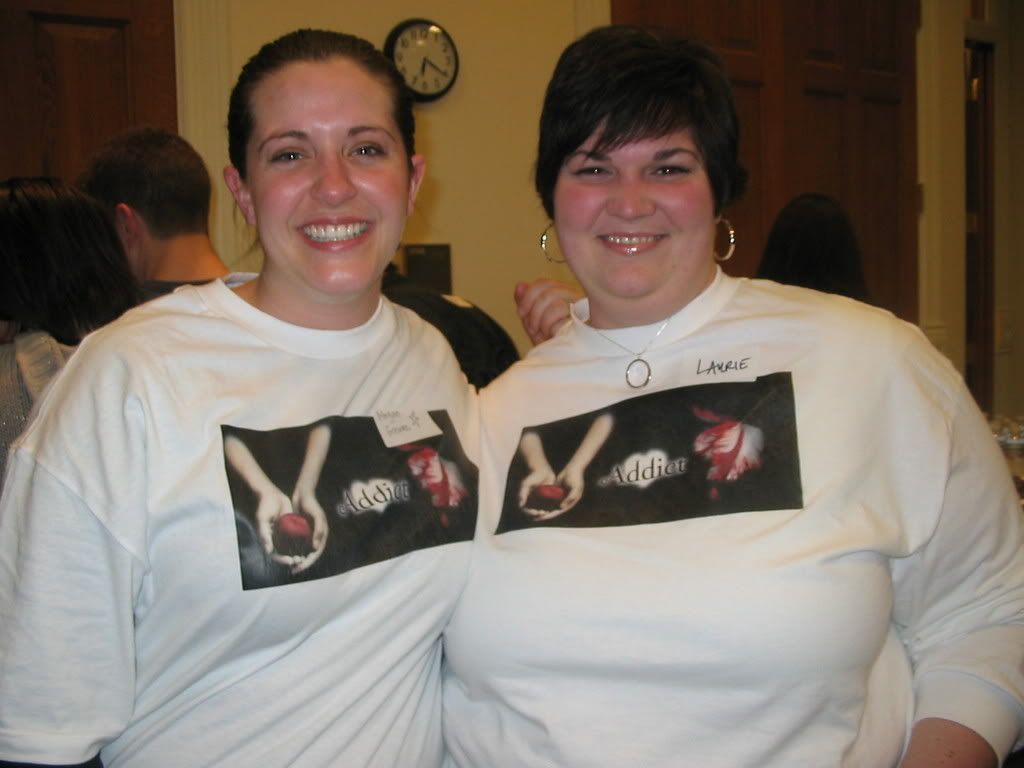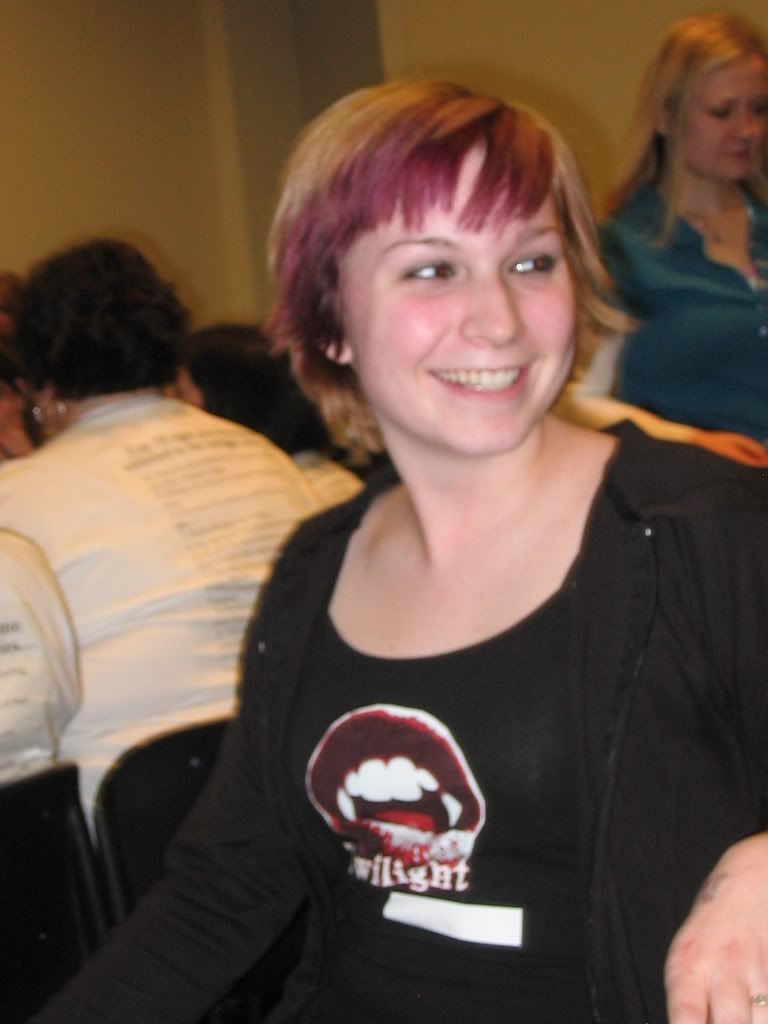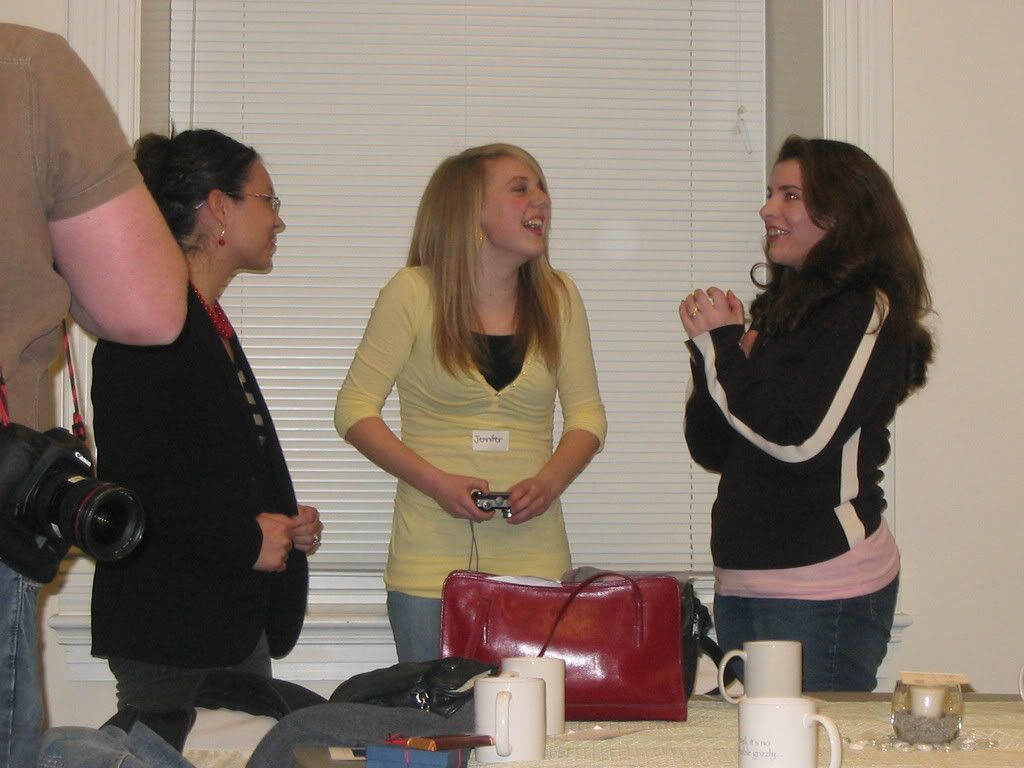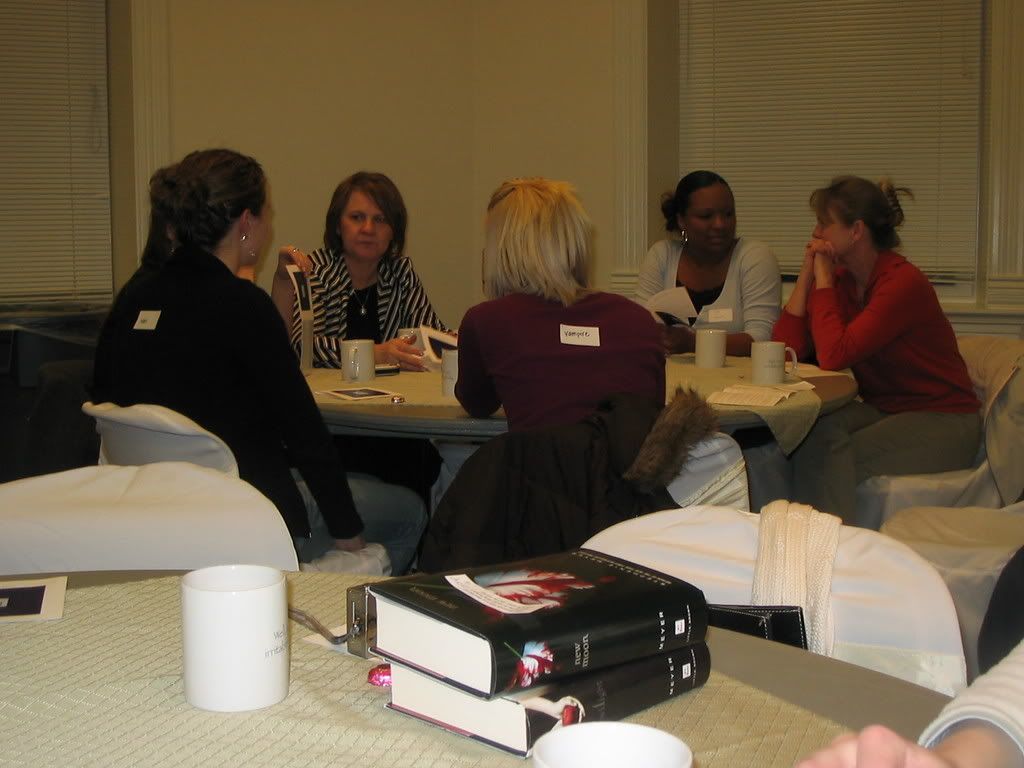 Did anyone make it all the way to the end?
Alma who designed the shirts and programs website is here
http://photojennic.photostockplus.com/
.
Tags: when christy and i